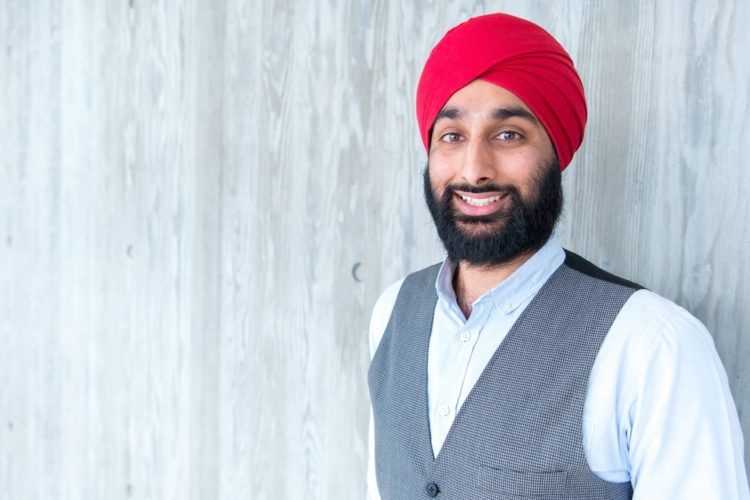 Graduate Member Harpreet explains what inspired him to become a structural engineer and why he's working towards Chartered Membership.
What inspired you to become a structural engineer?
Growing up I always had a curiosity for how things worked. I was influenced by my dad tackling his building projects and had the opportunity to volunteer in local self-build community projects - such as the construction of a brand-new community centre, and the regeneration of abandoned grade 2 listed buildings into a primary school.
It was stimulating and exciting to discuss ideas, solve challenges and be part of a team that was turning drawings and digital models into bricks and mortar. I realised I wanted to leave my mark by evolving the skyline – designing beautiful, functional buildings that improve the lives of others.
I graduated from Coventry University in 2015 with an MEng in Civil & Structural Engineering including an Industrial Placement Year.
What are the greatest achievements in your career to date?
I have been blessed with opportunities to work on many intriguing projects throughout my career, including:
Construction site management and engineering of five water treatment works upgrade projects, which served clean water to the East Midlands
Winning the 2014 IStructE Midlands Research Award (for my dissertation on the structural connection behaviour of Glass Fibre Reinforced Polymer hollow profiles)
Engineering a shipwreck (accomodating a deck climbing frame and an ice stake trail) for the Mall of Oman Snowpark
Structurally surveying the world's biggest Primark
Concept design of HS2 Manchester Piccadilly Station, Manchester Airport Station and Birmingham's tallest residential tower, the Mercian.
Successfully hosting the IABSE Future of Design 2019 Conference in Birmingham.
How would you define structural engineering?
Structural engineering is the synthesis of creativity, maths and science to design and construct safe and economical structures. We translate architects' visions into physical, tangible structures - from skyscrapers and bridges to art sculptures and rollercoasters.
Structural engineering is important because it provides a weatherproof frame for homes, offices, hospitals and schools. Take a moment to remember all the times you've crossed a bridge, visited a museum, gone to a football match; structural engineering connects people, places and helps develop cities by revamping the past and inventing the future.
Who should become a structural engineer?
Structural engineers enjoy combining science, creativity and digital design to make an impact on society. If you enjoy working in multi-disciplinary teams and solving problems it is the career for you.
What do you find valuable about Graduate Membership?
Graduate Membership allows me to collaborate and converse with like-minded individuals united around the practice of structural engineering.
I'm currently preparing for my Chartered Membership exam and interview. Chartered Membership would mean achieving a personal milestone, additional project responsibilities, more freedom to influence projects and opportunities to travel.
How do you interact with the Institution?
I am active in my Regional Group, previously serving as communication officer and setting up the first Regional Group Instagram account. Regional Group events are a great way to connect with fellow designers, discuss projects, challenges and attain knowledge.
I'm a frequent attendee of IStructE events at HQ and through my Regional Group. These events provide a great opportunity for forming relationships, learning and getting inspired.
The first ever IStructE Digital Design and Computational Conference was amazing as it highlighted what an exciting time it is to be a structural engineer as the profession is advancing into the 21st century.
I also find The Structural Engineer magazine to be a brilliant resource in my work, particularly for its technical guidance notes, project focus and engineer profiles.
Discover more IStructE career profiles
Fellow member: Eric Li FIStructE
Chartered member: Nipun Wijegunasekera MIStructE
---