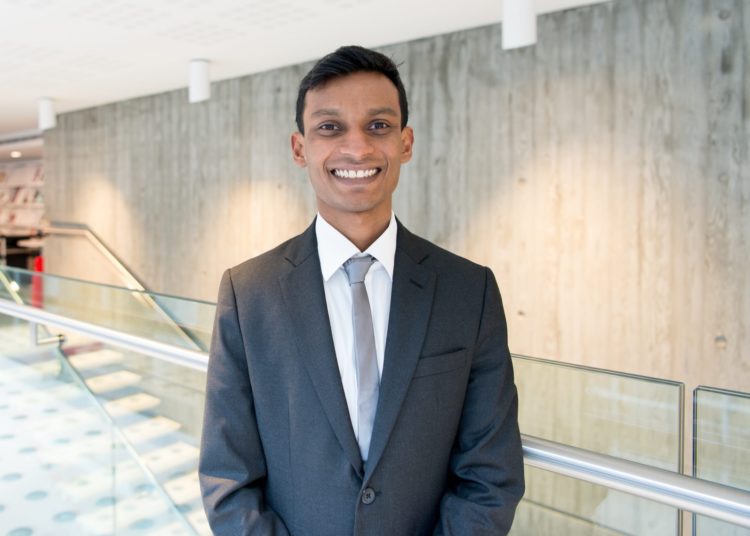 Nipun Wijegunasekera is a senior structural engineer at Ramboll, since starting as a graduate engineer in 2014. In his role he develops structural schemes to support architects' designs and advises clients and contractors on structure related problems.
"I wanted a career where I could be a problem-solver and bring value to others"

Nipun Wijegunasekera MIStructE
What inspired you to become a structural engineer?
I was fascinated by various structural forms used to support different spaces – whether it was a truss to support a long span or a dome to enclose a space.
I wanted to study structural engineering as I wanted a career where I could be a problem-solver and bring value to others. As a structural engineer my work is tangible – structure is all around us – and that brings great satisfaction.

I was inspired by the likes of Leonardo Da Vinci and Peter Rice, who took insights from various fields and used them in engineering designs. I also admired large structural engineering projects such as Taipei 101: an ingenious structural engineering design, which made it possible to build a tall structure in an environment prone to earthquakes and typhoons.
What are the greatest achievements of your career?
Becoming a Chartered Member with the Institution was a very special achievement and milestone.
I also led a team of engineers from different fields to produce a competition entry for a modular construction space station for the Young Structural Engineers' International Design Competition (YSEIDC). It was an interesting project because we were solving a unique design problem.
We assumed all the roles of the project team, from users, designers to builders. Our job was to understand the environment we were building it in and the forces acting on the structure. We explored many options for the space station and arrived at several viable structural solutions.
Another gratifying moment in my career was when I led the technical design on a project that was on a very quick construction programme. The project was handed over to me in a short period of time, when construction of some phases had already started.
I was responsible for delivering the connection design of the remainder of the scheme, liaising with the subcontractor during the construction phase. Time management was key on this project. I had to spend some time upfront understanding the overall design philosophy of the building, while designing connections to some components and answering construction queries. There were a few late nights on the project, but it was a great learning experience.
How would you define structural engineering?
Structural engineering is the practice of designing buildings and bridges to be stable and enduring. It is about designing a structural form that provides shelter to a space, supports itself and withstands the natural elements.
It could be viewed both as a science and art, depending on the nature of the problem being solved. Structural engineering requires blue sky thinking to design solutions benefiting all stakeholders within the realms of physics and available technology and resources.
Structural engineering can influence human life in various situations. It could be about building a skyscraper in a seismic zone where structural failure could mean lost lives; or building a bridge for a rural community using locally sourced materials that will help raise their living standards.
Who should become a structural engineer?
I feel the profession is open to anyone who is curious about how structures work. A structural engineer often conceptualises how a structure works and identifies viable load paths. Therefore, a good understanding of mathematics and physics along with the skill to visualise and sketch solutions are important.
Projects are often open-ended problems and engineers need to navigate around ambiguities, unknowns and work collaboratively with the project team. It is a great opportunity if you like working in teams and leaving personal impact on the work you do. Structural engineering is a great chance to be involved in a project's conception to its completion.
What does Chartered Membership of the Institution mean to you?
I worked towards Chartered Membership because I was interested in design, and it was an opportunity to hone my skills as an engineer. I felt I was able to strengthen my skills as an engineer by preparing for the Professional Review interview and the exam. It gave me the opportunity to work on designs and problems that I wouldn't have typically worked on.
Also, as an internationally recognised membership, it would open opportunities globally. The process also helped me understand the rigour expected of a professional structural engineer.
How do you interact with the Institution?
I was involved in the Young Structural Engineers' International Design Competition (YSEIDC) submitting a competition entry for the design of a space station. I also submitted an essay for the Kenneth Severn Award, where I discussed my thoughts on integrating sustainability as a core element of the design process and how structural engineers can make an impact within the design team to champion the cause of sustainable design.
Additionally, I was involved in Constructionarium, where I supported the University of Cambridge as a consulting engineer. I discussed/presented to students on the role of a consulting engineer and helped them understand the design of the structure they were building.
I have attended talks/lectures organised by the Young Members' Group. They were very useful and inspirational as the speakers discuss their projects and concepts behind their thinking.
I watch various lectures and presentations, which I have found very helpful. Personally, I find The Structural Engineer magazine to be a wealth of knowledge. It provides guidance on design and comprehensive knowledge on great projects around the world. I also regularly refer to the IStructE manuals for design for the various Eurocodes because they present the content of the Eurocodes in a very accessible way.
Discover more IStructE career profiles
Fellow member: Eric Li FIStructE
Graduate member: Harpreet Sidhu
---