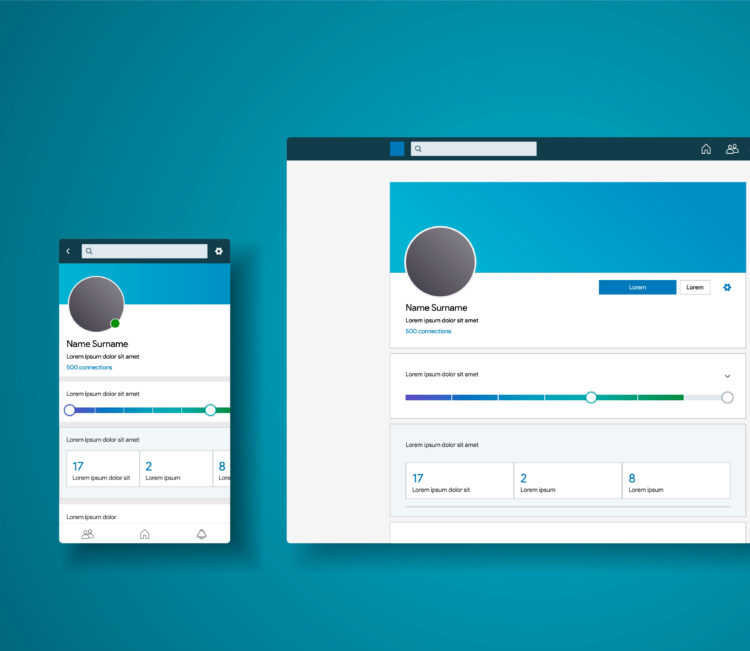 With around 430m users in the world, it's not hard to see why LinkedIn is the fourth biggest social media platform. While it's not quite up there with Facebook numbers, you can see why the business community loves it. LinkedIn is a great platform for gaining market intelligence, making connections and searching for jobs. It has become an integral part of the job-hunting process.
A photo is vital
Although you wouldn't include a photo in your CV, you most certainly should with your LinkedIn profile as it greatly increases engagement. A head and shoulders style photo looks best and make sure you show off your natural, relaxed smile. It's crucial to find that balance between not looking too formal or too casual.
A background image will set you apart
LinkedIn is a visual experience so providing a background image will help to lift your profile and give it personality. You can choose something either abstract or related to your profession. In order to enhance the visual impact, you can edit the image first and adjust the placement. Ensure the colours of the image you choose contrast well with your profile page.
Always write in first person
While a CV should be written in third person, your LinkedIn profile is best written in first person. Remember you are starting a conversation with your reader – make sure to directly address them. You want to sound as natural as possible so write in short paragraphs instead of bullet points as this replicates the way we normally speak.
Optimise your headline and summary
As a job hunter, you need your profile to appear when recruiters do key word searches to find relevant profiles. So it is crucial that you include these, especially in the professional headline and summary, which LinkedIn weights more heavily in its algorithms. You should change the default setting in your professional headline to accurately reflect the most common job title for your current role – or the job title role aligned most to your job search.
Request a recommendation
Recommendations can look great in your LinkedIn profile. Preferably look to get at least two for each recent employment. Don't hold back in requesting them from connections. Most people will feel flattered to be asked. You may also find it useful to use snippets of your recommendations on your CV too as they are in the public domain.
Search for jobs
LinkedIn is a fantastic tool for job searching. Once you select the 'jobs' option in the search field at the top, you can tailor the key words to what role you are looking for such as 'senior structural engineer' for example. LinkedIn also allows you to connect with appropriate groups and employers. You should focus on growing your network by making different connections.
Keep your profile current
As an active job seeker ideally you should check into LinkedIn at least once a day. You also need to ensure that your profile is kept up-to-date and is consistent with your CV. It's important to remember that an employer is more than likely to visit your LinkedIn page once they have read your CV. So make certain your dates and job titles are aligned in both.
This CV writing advice article is written by Neville Rose, Director of CV Writers.
CV Writers are the official partner to The Structural Engineer Jobs. In addition to a CV writing service, CV Writers can help with LinkedIn profiles, cover letters and interview coaching.
Read more career advice
Writing a captivating cover letter
How good is your structural engineering CV?
---