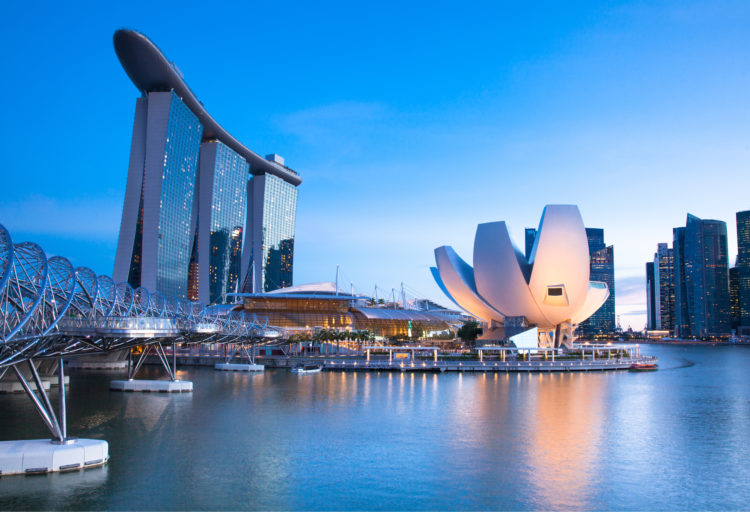 Brogan MacDonald, Senior Engineer at Ramboll, explores her experience in switching a Northern Line commute in London to sun-soaked 25-minute walks in Singapore to become a structural engineer abroad.
It's 2017. I'm approaching my final university exams. I'm giddy that I've just signed up for my first adult job as a Graduate Structural Engineer with Ramboll. I've been working overtime in a bar job to scrape enough together to book a flight to Thailand and live my dream to backpack Asia.
That year was monumental for my self-development. I relocated from Edinburgh to London. I travelled and loved Asia. I joined a company that had interesting projects all around the world.
It's now 2023 and I am sitting in our Singapore office writing this. I am a Senior Engineer in Ramboll and I am currently on secondment in our new Singapore structures team. I have had another monumental self and professional development year after becoming chartered and having the opportunity to live and work in Asia. The idea of living abroad is fantasised by many, but what is it really like being a secondee structural engineer abroad?
Work culture
The work culture in Asia is quite different to the UK. The deadlines are fierce, the workdays can be long, and the annual leave entitlement is small. While I moved over with the same company, it was a very big cultural change, and I quickly learned that geographies have different policies, structures and expectations. Even the methods of communication were different (e.g. WhatsApp is used for business here) and I had to adapt quickly to my new environment.
Technical upskilling
As with working on any international project, you must learn the local codes and regulations. Fortunately, Singapore works with Eurocode and has their own national annex so that was a simple adaption. However, when I started designing a stadium in South Korea, I realised the steep learning curve of understanding the Korean code. While it is based on principles of the American code, the Korean code does not have an official English translation! In addition to learning seismic design, this was a big professional growth spurt for me.
Moving abroad alone and making friends as an adult
I made the bold decision to move out here alone, temporarily leaving my partner and family in UK. At first it seemed like a glorified holiday. I've stayed in many hostels and I enjoy meeting new people on my travels. But what I realised quickly is that it is nothing like backpacking. Making friends as an adult is hard when everyone has their own established work, schedules and friends. Despite Singapore having a large expat community, finding your people is a challenge and it takes time to feel truly settled.
Travel on your doorstep
In the last six months I have taken holidays to Malaysia, Bali and The Philippines, and it only takes a couple of hours to get there! Singapore is considered the travel hub of South-East Asia and is also well connected to Australia and New Zealand. It's the perfect destination for any wanderlust.
Eternal summer
One of my favourite things about living in Singapore is the eternal heat. Rarely does the temperature drop below 25C°, so it's the perfect (but humid) climate for sun worshippers. My morning commute turned from 45 minutes on the Northern Line in London to a 25-minute stroll along the river. They're both pretty sweaty, but Singapore wins for me.
Growth
Despite the challenges, the personal and professional development I have gained from working abroad is vast. I have developed resilience, learned about the inner workings of a global business, improved my technical skills and learned to adapt my communication skills to different cultures.
If you ever get the opportunity to work abroad, grab your passport and go!
By Brogan MacDonald, Senior Engineer at Ramboll
Explore our latest careers advice
---